International Trade
As the international trade environment becomes increasingly complex to navigate, businesses with a dynamic trade strategy have competitive advantage.
In the export business, it doesn't matter if you are a newcomer for the first time or an established exporter looking to grow your business abroad.
From assessing trade barriers to prioritizing access to new markets and stakeholder engagement, The Trusted Service can help you meet the challenge. Our comprehensive market research services deliver bespoke and tailored insights into which countries may provide the best opportunities for your business.
We will be able to connect buyers and suppliers and access the exclusive market research database provided by us. We also have a network of industry experts all around the world organisations. This enables us to access their expertise and industry network through internal communication.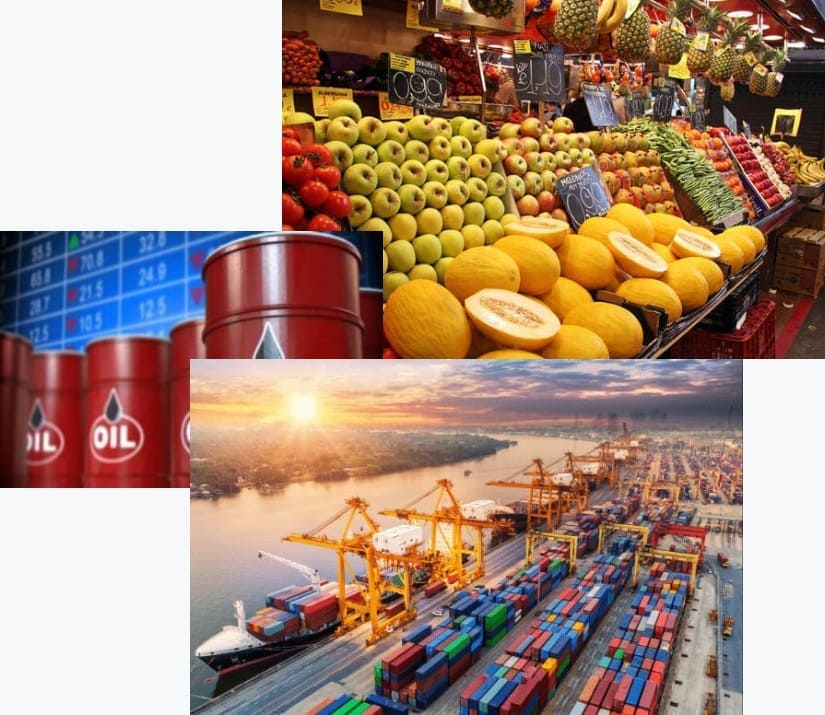 Trade facilitation
Our primary goal of trade is to connect you between buyer ; supplier and help make trade across borders (imports and exports) faster, and cheaper and more predictable, whilst ensuring its safety and security. In terms of focus, it is about simplifying and harmonizing formalities, procedures, and the related exchange of information and documents between the various partners in the supply chain
Market research for suppliers and buyers
Finding the right manufacturer for your new product is crucial to your success. Manufacturers control your product's cost, quality, and packaging and shipping. Here's how you can find the perfect ones.
The Trusted Commercial connects buyers and Suppliers around the world. It's a common marketplace to find existing products, but you can also use The Trusted Commercial to connect with manufacturers to create custom products. Simply search for the products you're looking for and browse through the various suppliers and manufacturers. It's easy to safely buy from The Trusted Commercial .
The marketplace lets you vet manufacturers upfront to get the best products at a fair price. When researching manufacturers on The Trusted Commercial , make sure they have the following qualification:
Verified, which means a third-party evaluation services company or The Trusted Commercial has visited their manufacturing facility.
Trade assurance, a free service that protects your orders from payment to delivery.
if you are a Supplier or buyer of different sectors which are not included in the website The Trusted Commercial like Oil & Natural Gas, Farm and others; you will be welcome to contact us by this email trade@thetrustedservice.com
Global Food Crisis – What causes Food Insecurity ?
The reasons for hunger and food insecurity are many and vary from country to country, but generally, it is a result of conflict, poverty, economic shocks such as hyperinflation and rising commodity prices and environmental shocks such as flooding or drought.
The conflict in Ukraine has sent global food prices skyrocketing. A third of the world's wheat supplies come from Ukraine or Russia. Ukraine also supplies the world with sunflower oil, barley, maize, and fertilisers. But ongoing conflict means that fields won't be prepared, crops won't be planted and fertilisers won't be available.
COVID-19 also caused a sharp rise in poverty and inequality globally, as lockdowns devastated family livelihoods. In many countries, pandemic restrictions also meant disruption to food supplies, slowing remittances from family overseas and the halting of school meal programmes. Steep rises in food prices are also creating immense strain on household budgets, with the poorest families hardest hit.
Climate change has contributed to food insecurity by changing weather patterns such as rainfall, increased climatic shocks such as hurricanes, cyclones, floods and droughts which all have an impact on harvests. Climate change has also increased the prevalence of crop pests such as locusts, which damage and destroy harvests.
Inflation and economic shocks has impacted the access to food for many people. Even if food is available, for many people it is too expensive to buy reducing people's access to food. Linked to the Pandemic, many people have lost their livelihoods and income, again reducing families' ability to purchase food.
Solving the food crisis
Open markets have a crucial role to play in raising production and incomes. Trade enables production to be located in areas where resources are used most efficiently and has an essential role in getting products from surplus to deficit areas. Trade also raises overall incomes through the benefits to exporters (in the form of higher prices than would be received in the absence of trade) and importers (through lower prices than would otherwise be paid), while contributing to faster economic growth and rising per capita incomes.
Getting world food markets to function more smoothly will also require wider efforts at the multilateral level